2016 June Patron
Marion Chapman, Breakthrough Art Festival 2016
Delighted to have been part of this Cancer Council Fundraiser.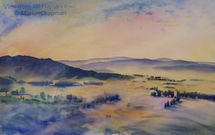 Some text from the email I just received:
First and foremost, we wanted to say a big THANK YOU for your support of the Breakthrough Art Festival. The Festival's Opening Night saw over 1,000 art devotees cram into Chippendale's award winning aMBUSH Gallery! Officially opened by Cancer Council NSW Chief Executive Officer, Mr Jim L'Estrange, lining the walls were over 600 artworks, a veritable kaleidoscope of colours, mediums and interpretations. Over the Festival's four day run, a period during which child attendees were entertained by artist and performer, Philip Aspden, I am very pleased to say that more than 200 artworks found new homes, the sum of their sales totalling more than $25,000!
The painting I donated was a landscape and is similar to "View from Mt Hay".