Private tuition - all supplies included
Sylvania
Marion Chapman Studio
PayPal available. Learn watercolour or drawing tailored to your level of knowledge. All supplies included $90. Gift vouchers - sure, just ask.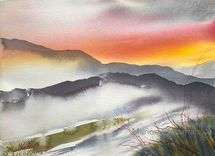 Learn watercolour painting in a relaxed environment with individual tutor attention.
Learn tonal variation, types of watercolour brushes, types of watercolour paint, focal point placement, or focus on an area of art creation of your choice.
Everything is supplied: professional quality paint, 4 types of watercolour brushes, ceramic rose palette, professional watercolour paper (rough and smooth), support boards and everything you need to paint in watercolour.
Enquiries? Contact Marion to ask any questions
mazchap@optusnet.com.au
Cost $90
Location: Sylvania